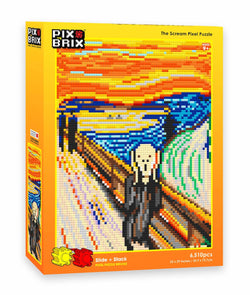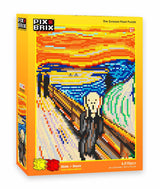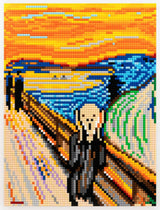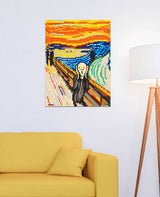 See into the haunting world of Edvard Munch's "The Scream" like never before with the PIX-BRIX "The Scream" Pixel Puzzle.
"The Scream" is one of the most recognized and celebrated paintings in art history, known for its powerful portrayal of anguish and despair. With the PIX-BRIX Pixel Puzzle, you have the unique opportunity to recreate this emotional masterpiece. Each pixel brick is crafted to deliver an awe-inspiring final product that captures the essence of Munch's original vision.
Ideal for both art enthusiasts and puzzlers, "The Scream" PIX-BRIX Pixel Puzzle serves as an engaging and educational activity. Delve into the symbolism and artistic significance behind Munch's masterpiece while honing your concentration and problem-solving skills.
Crafted with the utmost care and precision, PIX-BRIX guarantees a high-quality and durable puzzle set that you can proudly display as a work of art once completed. The Scream kit is the largest Art Series pixel puzzle which comes with 6,510pcs of Pix Brix, Color Coded Template, PB Tool and Mounting Kit.
Unravel the enigma behind "The Scream" and create a tangible connection to this iconic piece of art with the PIX-BRIX Pixel Puzzle. Awaken your creativity, engage your mind, and pay homage to Edvard Munch's masterpiece in an unforgettable and tangible form. Don't miss the chance to experience the magic of "The Scream" with PIX-BRIX today!

Final Built Size - 22 x 29 Inches / 55.9 x 73.7cm