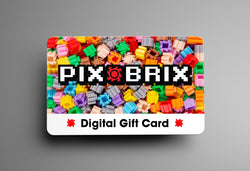 Unlock the World of Creativity with a Pix Brix Gift Card
Give the gift of a Pix Brix Digital Gift Card to your favorite pixel building enthusiast!
At Pix Brix, we believe in the magic of creativity and imagination. Our pixel art building bricks bring your ideas to life, one small puzzle brick at a time. Whether you're a beginner or a seasoned creator, Pix Brix is your gateway to endless possibilities.
"Unlock. Build. Create."
Note: You will receive a separate email after checkout with a special Gift Code to use online.