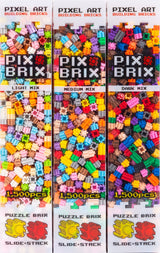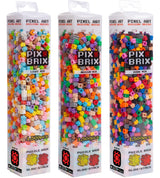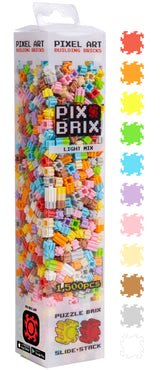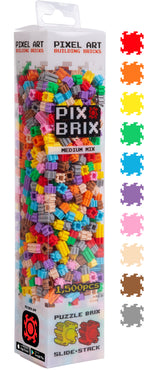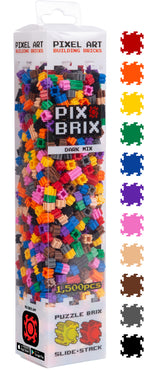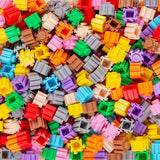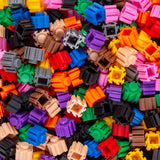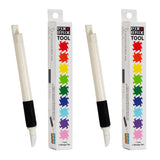 4500pc Mixed Bundle with Tools
You can purchase this product on our website or on Amazon!
Experience the value and artistic expression with the 4500pc Mixed Bundle with Tools – your gateway to the complete Pix Brix 32-color palette. Seamlessly merging convenience and creativity, this bundle offers an opportunity to save money while immersing yourself in the captivating world of Pix Brix.
The 4500pc Mixed Bundle embraces the entirety of Pix Brix's vibrant spectrum. This thoughtfully curated collection encompasses the Dark, Medium, and Light series, each comprising 1500 pieces, ensuring a rich and varied palette for your masterpieces.
This set includes two PB Tools, versatile aids that enhance precision and bring your artistic creations to life. Craft with confidence and finesse, knowing that your creations are guided by the utmost precision and craftsmanship.
The 4500pc Mixed Bundle isn't just a collection of pieces; it's a celebration of innovation and limitless possibilities. Each of the three 1500pc boxes, along with the accompanying tools, is elegantly packaged within a clear plastic sleeve, ensuring easy access and an organized workspace.
Don't hesitate – seize the moment and acquire your very own 4500pc Mixed Bundle with Tools today. Discover the fusion of art and engineering that Pix Brix offers, and witness your imagination come to life in ways you've never thought possible. Your creative masterpiece awaits – start Pixelating now!
View our 6000 piece containers here.

The question is…What Will You Pixelate?®

*Color Quantities Will Vary Per Box