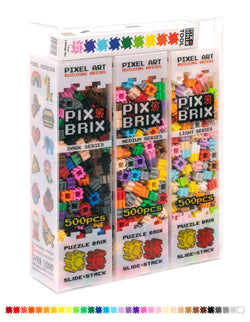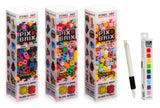 1500pc Mixed Bundle with Tool
The 1500pc Mixed Bundle Pack was thoughtfully designed to be the ultimate starter set. Get the full spectrum of creative possibilities with the complete Pix Brix 32 color palette in one package.
This pack has three distinct mix boxes, each containing 500 pieces, the 1500pc Bundle Pack showcases the exquisite Light, Medium, and Dark series. This selection empowers you to effortlessly infuse your creations with depth, vibrancy, and nuance, enabling your vision to come to life in stunning detail.
Equip yourself for artistic excellence with the inclusion of the PB Tool, a versatile companion that enhances precision and elevates your building experience. Every piece of the 1500pc Bundle Pack has been thoughtfully chosen to cultivate an immersive and enriching journey.
Designed for both novices and seasoned enthusiasts, the 1500pc Bundle Pack is a gateway to boundless imagination. The comprehensive assortment of Pix Brix pieces, thoughtfully organized within a clear plastic box, guarantees that your creative tools are easily accessible and expertly arranged.
Embark on your Pix Brix journey today with the 1500pc Mixed Bundle Pack. Elevate your artistic prowess, delve into a world of color, and immerse yourself in the captivating realm of Pix Brix. Your creative voyage begins here.
All items come packed together in a clear plastic box.