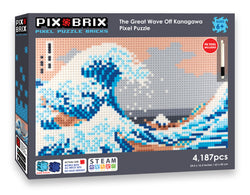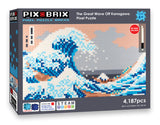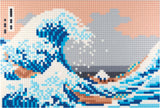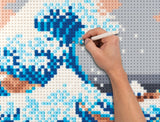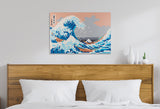 The Great Wave Pixel Puzzle
Purchase this product on our website or on Amazon!


Step into the mesmerizing world of Hokusai's "The Great Wave Off Kanagawa" like never before with PIX-BRIX! This innovative building block set allows art enthusiasts, puzzle solvers, and creative minds of all ages to recreate one of Japan's most iconic woodblock prints in stunning detail.
Designed with a passion for both art and play, the "The Great Wave Off Kanagawa" PIX-BRIX pixel puzzle serves as a fantastic way to unwind, destress, and explore your creativity. Whether you're a seasoned artist, a history buff, or a parent looking for an educational yet enjoyable activity for your children, this building kit is perfect for all skill levels. The Great Wave Pixel Puzzle comes with 4,187pcs of Pix Brix, Color Coded Template, and PB Tool.
Crafted from high-quality and durable materials, PIX-BRIX guarantees a long-lasting masterpiece that you can proudly display as a symbol of your artistic accomplishment.
Whether you're a dedicated art lover, a fan of challenging puzzles, or simply seeking an innovative and rewarding hobby, the "The Great Wave Off Kanagawa" PIX-BRIX set is a must-have addition to your collection. Rediscover the magic of Hokusai's masterpiece and create a tangible connection to this art form's rich cultural heritage with PIX-BRIX today!
Final Built Size: 24.5 x 16.5 inches / 62 x 42 cm