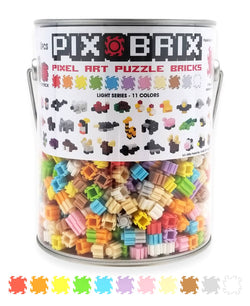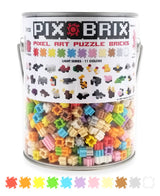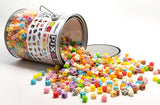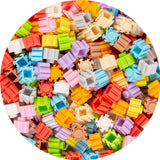 Mixed Series 1500pc Paint Can – Light Palette
Pix Brix Pixel Art Puzzle Bricks Bundle – 1,500 Piece Pixel Art Bricks presented in a bucket.

This assorted set comes with 1,500 pieces in colors from the light palette.

Presented in a paint can as shown, ideal for storage and gifting.

Get inspired by the colorful and diverse pixel art templates that are available online and on our app.

This mixed set is a perfect starter kit for all pixel and construction toy fans. Easily construct and deconstruct your creations by hand or using our Pix Brix tool, sold separately.
Purchase all 3 mixed series paint cans and start pixelating with the full 32 color palette!
The question is…What Will You Pixelate?®
Do you live in Canada? You can now purchase Pix Brix from the following retailers: