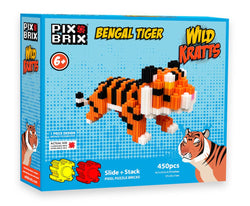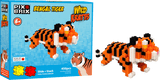 Bengal Tiger - Wild Kratts
Embark on a thrilling journey with Pix Brix, the innovative pixel puzzle brick collaborating with Wild Kratts for an adventure like no other! Unleash your creativity using our award-winning design, perfectly tailored for both 2D pixel art and dynamic 3D builds. Pix Brix requires no base plate, water, iron, or glue, offering a safe, enjoyable, and reusable building experience that effortlessly blends with other brick brands and sets.
Step into the world of the Wild Kratts Bengal Tiger kit, an exciting assembly of 450 pieces. Dive into the vibrant habitat of these magnificent creatures and watch them come to life with captivating intricacy.
Whether you're crafting detailed 2D designs or bringing realistic 3D figures to life, Pix Brix provides an immersive and educational experience. Certified as a STEM/STEAM educational toy, it seamlessly combines entertainment with enriching learning.
Build your collection by collecting and constructing them all! Uncover boundless possibilities as you bring your favorite characters to life in the ultimate building adventure.
Explore the Kratt Brothers entire collection here!

What Will You Pixelate?®