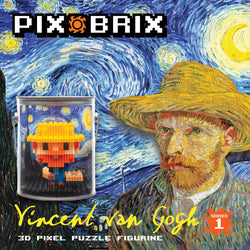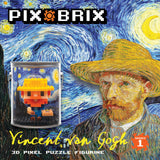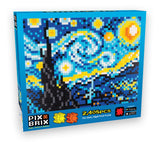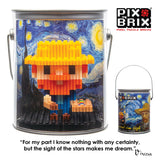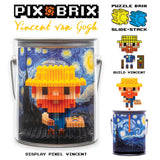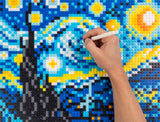 Indulge in artistic brilliance with our Vincent Van Gogh Bundle, featuring:
Vincent Van Gogh Kit: Build and showcase the adorable Pix Brix rendition of Vincent Van Gogh! Housed in a charming paint can, the kit includes Pix Brix, comprehensive instructions, and a printed Starry Night painting. Construct this whimsical pixel Vincent and proudly display him in the paint can case, with his masterpiece as the backdrop. An ideal gift for any Van Gogh enthusiast!
Starry Night Pixel Puzzle: Now, bring to life a pixelated version of Vincent Van Gogh's iconic Starry Night painting to adorn your wall! The Starry Night Pixel Puzzle includes Pix Brix, a Color Coded Template, and the essential PB Tool for effortless building.
The Pix Brix Starry Night Pixel Puzzle makes for the perfect gift, catering to art lovers, puzzle enthusiasts, and pixel aficionados alike. Elevate your creative experience with this exceptional bundle. Order now and immerse yourself in the enchanting world of Van Gogh pixel art!
"For my part I know nothing with any certainty, but the sight of the stars makes me dream" Vincent Van Gogh.
See our full artist series here.