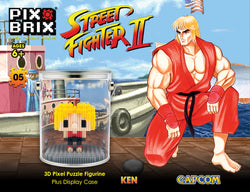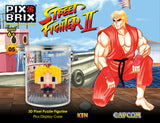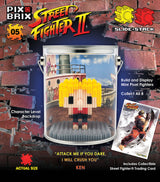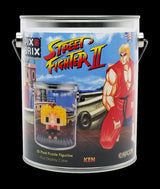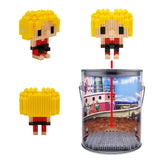 Street Fighter® 3D Mini Pixel Fighter – Ken
Embark on a Street Fighter® adventure with Pix Brix 3D Buildable Figurines! Construct your cherished Street Fighter® character, the fiery Ken known as "The Fire-Breathing Fist," and proudly exhibit him in the paint can display case featuring authentic Street Fighter II character level artwork backdrops.
This officially licensed Capcom kit is a meticulously crafted tribute to the dynamic Street Fighter® universe. Inside, discover Pix Brix, comprehensive instructions featuring character statistics, a dedicated display case, and an exciting bonus – a Street Fighter prismatic collectible trading card!
Capture the intensity and spirit of Ken's fire-breathing fists in pixelated form. Elevate your collection with this essential pixel puzzle kit that honors one of Street Fighter's iconic characters.
Order now and pixelate Ken, "The Fire-Breathing Fist," with Pix Brix – where the spirit of battle meets the art of pixel construction! Explore our full range of Street Fighter® products for a complete collection.