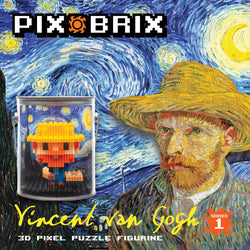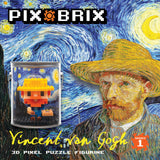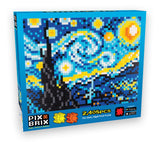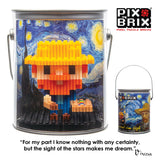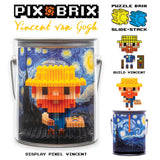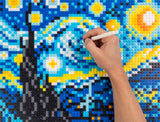 This bundle includes:

Vincent Van Gogh kit. Build and display this adorable Pix Brix Vincent Van Gogh! The Van Gogh kit comes in a paint can and includes Pix Brix, instructions, and a printed Starry Night painting. Build this little whimsical pixel Vincent and display him in the paint can case with his painting as the backdrop. The perfect gift for any Van Gogh fan!
Starry Night Pixel Puzzle. Now you can build a pixel version of Vincent Van Gogh's famous Starry Night painting and hang it on your wall! The Starry Night Pixel puzzle comes with Pix Brix, Color Coded Template, and PB Tool for easy building.
The Pix Brix Starry Night Pixel Puzzle is the perfect gift for any art, puzzle, or pixel enthusiast.
"For my part I know nothing with any certainty, but the sight of the stars makes me dream" Vincent Van Gogh.
See our full artist series here.
Do you live in Canada? You can now purchase Pix Brix from the following retailers: