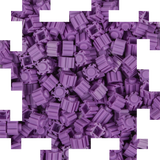 Are you ready to let your creativity fly and start pixelating?
Order a Pix Brix bulk box in either 250 or 500 piece counts. Available in 32 colors, 3 color series – Dark, Medium, and Light.
With Pix Brix the amazing pixel art puzzle brick you can build anything you can imagine in 2d or 3d form. The question is…What Will You Pixelate?
Please note: Actual brick color may vary slightly from photos due to lighting or monitor settings.