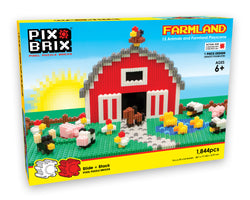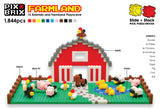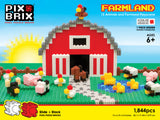 Step into the serene landscapes of the Pix Brix Farm, where blue skies and lush green pastures set the backdrop for an enchanting pixelated world. Immerse yourself in the charm of our Old Farm Set, a delightful collection of 1,844 meticulously crafted Pix Brix pieces that bring to life 15 adorable farm animals and a picturesque Farmland Playscene.
Create a lively and vibrant farm atmosphere by filling your Pix Brix Farm with playful chickens, ducks, sheep, horses, and a variety of other pixelated farm friends. The set includes a diverse array of animals, including a Rooster, 2 Sheep, 4 Chickens, 2 Ducklings, a Duck, Horse, Piglet, Pig, Cow, and Bull – each one meticulously designed for an authentic farm experience.
With a final built size of 15 x 6.75 x 5.5 inches, your Pix Brix Farm becomes a captivating display of pixel perfection. The carefully curated assortment of farm animals adds a touch of whimsy to your collection, making it an ideal centerpiece for enthusiasts of all ages.
Order now and cultivate your own vibrant pixel farm today!
Box Size: 12 x 9 x 2.4 inches