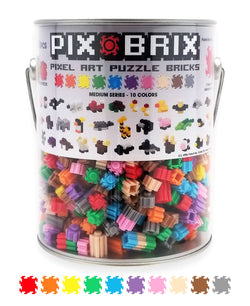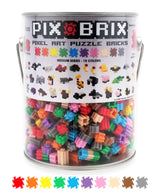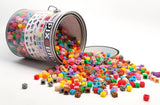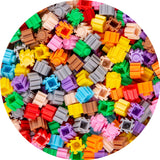 Mixed Series 1500pc Paint Can – Medium Palette
Introducing Pix Brix Pixel Art Puzzle Bricks – an enticing collection of 1,500 pieces presented in a chic paint can, perfect for storage and gifting.
This assorted set features 1,500 pieces in captivating shades from our medium color palette, adding depth and warmth to your pixelated masterpieces.
Find inspiration in our diverse array of vibrant pixel art templates, available on our Pinterest page, YouTube channel, and app. Crafted for pixel and construction toy enthusiasts, this set is an ideal starting point for your creative journey.
Presented in a stylish paint can, this collection facilitates seamless construction and deconstruction, whether done by hand or with our Pix Brix tool (sold separately). Elevate your pixelating experience by collecting all three mixed series paint cans, granting access to our expansive 32-color palette.
Order now and immerse yourself in the enticing world of Pix Brix, where every piece is a medium-hued pixel waiting to enhance your imaginative designs!
The question is…What Will You Pixelate?®