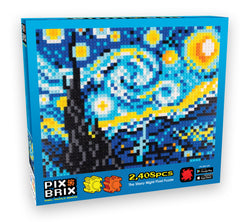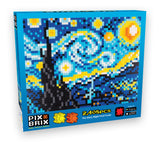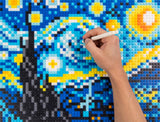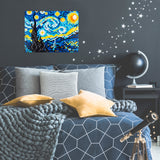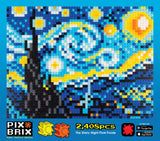 Starry Night Pixel Puzzle
Go on a captivating journey through the mesmerizing swirls of Vincent van Gogh's masterpiece, "Starry Night," brought to life with the PIX-BRIX "Starry Night" pixel puzzle kit. Ignite your passion for art and architecture as you delve into the world of fine craftsmanship and intricate design, recreating this iconic artwork in stunning 3D form.
The PIX-BRIX "Starry Night" pixel puzzle kit is more than just a building block set; it's a celebration of creativity and artistic expression. Step into the mind of one of history's greatest artists as you assemble each PIX-BRIX brick and bring forth the vibrant hues and dreamlike contours of the original painting.
Perfect for art enthusiasts, puzzler and aspiring artists of all ages, the "Starry Night" PIX-BRIX pixel puzzle offers a unique and meditative experience. The therapeutic and rewarding nature of this building process ensures an engaging and stress-relieving activity that captivates both young and old alike.
Crafted with meticulous attention to detail and made from high-quality materials, the "Starry Night" PIX-BRIX creation will stand the test of time, becoming a treasured centerpiece in your art collection. The Starry Night Pixel puzzle comes with Pix Brix, Color Coded Template, and PB Tool for easy building.
Unlock the artist within and indulge in a truly magical art-meets-architecture adventure with the "Starry Night" PIX-BRIX pixel puzzle kit. Rediscover the beauty of this timeless masterpiece and pay homage to Vincent van Gogh's brilliance, one brick at a time. Don't miss your chance to own a piece of art history with PIX-BRIX today!

"For my part I know nothing with any certainty, but the sight of the stars makes me dream" Vincent Van Gogh.
Purchase this product on our website or on Amazon!
More pixel art master pieces available here.