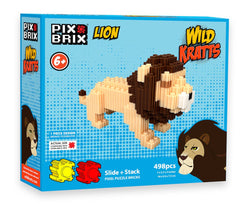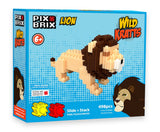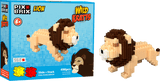 Embark on a wild adventure with the Pix Brix Wild Kratts Lion Kit, a pixel puzzle brick set that captures the essence of the animal kingdom! This extraordinary kit includes 498 meticulously crafted Pix Brix pieces, allowing you to bring the majestic lion to life in stunning detail.
Immerse yourself in the world of the Wild Kratts as you assemble this iconic creature. With Pix Brix's innovative design, featuring a simple 1-piece slide + stack system, enjoy a seamless building experience without the need for base plates, water, iron, or glue. It's the perfect combination of creativity and convenience!
Designed for fans and builders of all ages, the Wild Kratts Lion Kit is a captivating addition to your collection. Dive into the intricate details of this pixel puzzle masterpiece, showcasing the beauty and power of the king of the jungle.
Pix Brix ensures not only a fun and engaging building process but also a product that's reusable and compatible with other major brick brands and sets. Elevate your pixel art adventure with the Wild Kratts Lion Kit – where education, creativity, and the thrill of the wild converge. Order now and unleash the roar of the pixelated jungle in your own home!
Check out the whole Wild Kratts collection here!

What Will You Pixelate?®