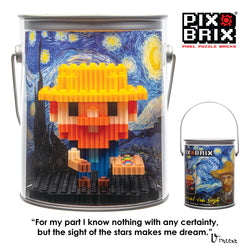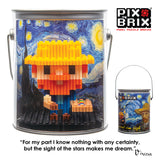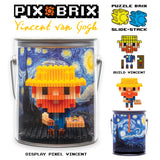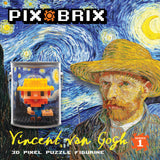 Pix Brix Vincent Van Gogh
Embark on a whimsical journey into the world of art with the Pix Brix Vincent Van Gogh kit! Housed in a delightful paint can, this kit brings together Pix Brix, step-by-step instructions, and a printed Starry Night painting. With each pixel, recreate the charm and creativity of the legendary Vincent Van Gogh in a unique and whimsical form.
Once completed, proudly display your pixelated masterpiece in the paint can case, with Starry Night serving as a mesmerizing backdrop. This charming creation is the ultimate gift for any Van Gogh enthusiast, blending the magic of pixel art with the timeless allure of Van Gogh's iconic works.
Transform your space with the enchantment of Van Gogh's artistry. Order now and build your whimsical pixel Vincent to add a touch of artistic wonder to your surroundings!
See our full Artist Series here.
"For my part I know nothing with any certainty, but the sight of the stars makes me dream" Vincent Van Gogh.