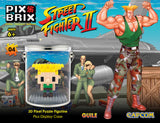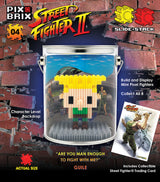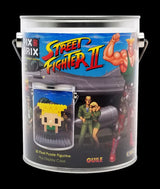 Street Fighter® 3D Mini Pixel Fighter – Guile
Step into the world of Street Fighter® with Pix Brix 3D Buildable Figurines! Craft your preferred Street Fighter® character, the formidable Guile, known as "The Sonic Blade," and proudly showcase him in the paint can display case featuring authentic Street Fighter II character level artwork backdrops.
This officially licensed Capcom kit is a meticulously crafted homage to the dynamic Street Fighter® universe. Inside, you'll find Pix Brix, comprehensive instructions featuring character statistics, a dedicated display case, and an exciting bonus – a Street Fighter prismatic collectible trading card!
Capture the strength and prowess of Guile in pixelated form. Elevate your collection with this essential pixel puzzle kit that pays tribute to one of Street Fighter's iconic characters.
Order now and pixelate Guile, "The Sonic Blade," with Pix Brix – where the spirit of battle meets the art of pixel construction! Explore our full range of Street Fighter® products for a complete collection.