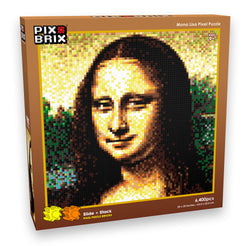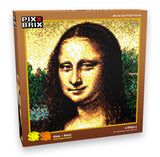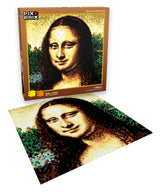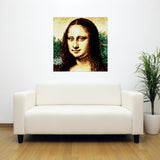 Introducing the fourth addition to the Pix Brix Art Series - the iconic Mona Lisa by the renowned Italian artist Leonardo da Vinci. This interlocking pixel puzzle captures the essence of this archetypal masterpiece from the Italian Renaissance. Widely celebrated as "the best known, the most visited, the most written about, the most sung about, and the most parodied work of art in the world," the Pix Brix Mona Lisa brings this cultural treasure to life in a unique and engaging way.
Crafted with precision, the Pix Brix Mona Lisa offers an immersive building experience. With 6,400 meticulously designed pieces, a Color Coded Template, PB Tool, and innovative wall mounting pieces, this kit provides everything you need to recreate the beauty of da Vinci's masterpiece. What sets Pix Brix apart is its interlocking pixel design, eliminating the need for a baseplate – simply slide the pieces together to unveil the stunning artwork.
Whether you're an art enthusiast or a pixel puzzle aficionado, the Pix Brix Mona Lisa is a testament to creativity and innovation. Elevate your artistic journey and display this timeless masterpiece with pride. Order now and immerse yourself in the world of pixelated artistry!
Final Built Size - 25 x 25 Inches / 63.5 x 63.5 cm
Check out other pixel art masterpieces here!