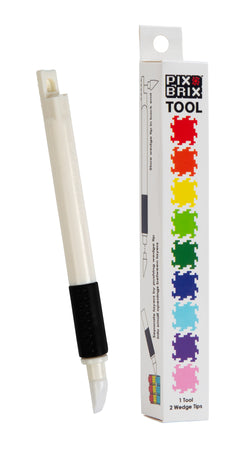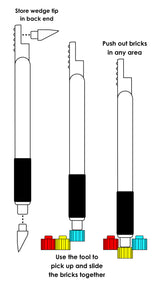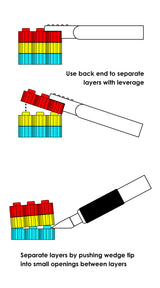 Unleash your creativity and effortlessly craft and deconstruct pixel masterpieces with the official Pix Brix Tool. This essential tool is designed with three distinct functions, revolutionizing your building experience.
The versatile tip of the PB Tool serves as a pixel artist's dream, allowing for precise placement and removal of Pix Brix. It mimics the sensation of coloring, offering a unique and engaging building process. This tip is also adept at pushing bricks out in specific spots within 2D builds, providing intricate control over your creations.
Equipped with a removable wedge piece, the tool becomes a precision instrument for separating layers of builds. Perfect for reaching small openings or corners, this wedge piece enhances your ability to refine and detail your pixelated artworks.
The top of the tool features a specialized design for removing layers of bricks with leverage. Simply connect it to the build layer, tilt the tool back, and effortlessly remove and separate the layer. This innovative feature adds ease to the deconstruction process, allowing for seamless adjustments to your creations.
Enhance your pixel artistry with the official Pix Brix Tool – a game-changing accessory that empowers you to refine, detail, and transform your pixel masterpieces. Order now and experience the next level of precision in pixel puzzle construction!